DAD - Disability Aid Dogs
Disability Aid Dogs is an Australian National Community Service Organisation caring for the community since 1994, giving the power of freedom to many disabled people. With offices in Queensland, New South Wales and Western Australia, D.A.D. offers advice and support on training clients with their own dogs assisting disabled people with programs for Medical Assistance Dog, Home Therapy Assistance Dog and Visitation Therapy Assistance Dog.

We do not pre-train and sell dogs - we train with your specific disability assistance needs from your dog with the expert supervision of our Internationally qualified senior behaviourists, trainers and instructors. D.A.D. is a self-accrediting organisation and a peak body in our own right.
Our Founders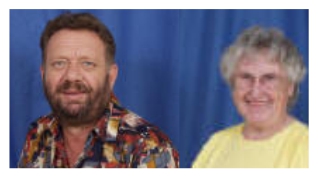 Alex Van Oeveren founded our organisation on 16.02.1994 with his wife Connie as Co-Founder. Due to failing health, Alex entrusted his dedication and hard work to another in the company in 2016, and unfortunately passed away after a battle with cancer in 2017. They both will always be recognised as the Founders of Disability Aid Dogs, and author of our Governing Documents. It is with pride Disability Aid Dogs takes the legacy of the hard work paved by Alex and Connie into the future.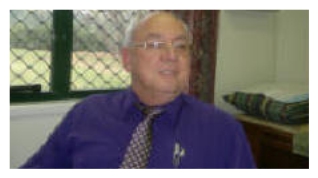 Dr Robinson has been well known to the organisation for over 15 years and strongly supports our programs. He has agreed that our approach to this work has been an invaluable tool to independence and dignity for so many disabled people, also, having witnessed the effective cancer detection of a Miniature Poodle trained by us, in detecting a Carcinoma on the face of one of his patients. As an animal lover himself, he has been supportive of DAD and the Advocacy work done by our "in house" advocacy unit to appose discrimination and efforts to have the disabled and disadvantaged in society have equal access to goods and services as well to all medical services, even with an Assistance Dog. Dr Robinson is a highly respected Australian trained doctor that has been in practice in Nanango for well over 40 years.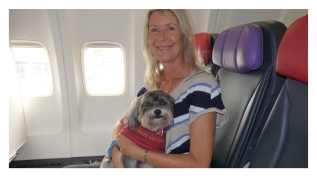 Our Patron, Jenifer Parkhurst on a Jetstar Flight with her wonder dog "Kari".

This little bundle has saved Jenifer's life more than once and is an inspiration to us all. Jenifer is a highly talented dog trainer and has trained Kari in a remarkable way.